Sociological studies department
«Monitoring in education is a system of collecting, processing, storing and distributing information about the educational system or its individual components, focused on information management, allowing to judge the state of the object at any time and giving a forecast of its development»
The main functions of the Department of Sociological research:
conducting, processing and analyzing the results of sociological research of internal and external consumers (teaching staff, students, employers and parents) of educational services of the university;
making suggestions to the management on the implementation of measures to improve the university's activities, taking into account the opinion of consumers.
Head of the sociological studies department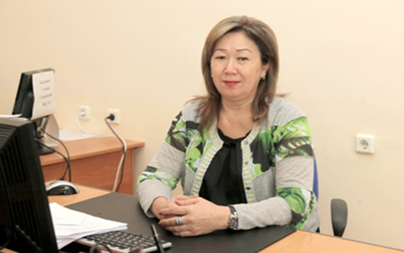 Abitova Gauhar
candidate of philological sciences
Address: Tauke Khan Avenue 5,
Main building, 251-office
Phone: 8 (7252) 21-01-30
Has graduated from M. Auezov Pedagogical Institute on specialty "Russian language and literature in the national school ", candidate of philological sciences. She has experience in the implementation of quality management systems at the university. She is the internal auditor of the quality management system. She provides technical assistance to departments in the development of strategic plans, she oversees implementation of the target indicators and quality indicators, and she is involved in the organization of the work of HEI internal control of education quality in the university.