The Department of Strategic Development
The Department of Strategic Development is a structural subdivision of the University, directly reports to the Rector and Vice-Rector for Strategic Development and Internationalization and interacts with all structural divisions of the M.Auezov SKU.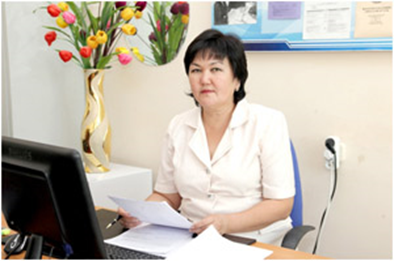 Director of the Strategic Development Department
Omashova Gauhar
candidate of physical and mathematical sciences, Associate Professor
Address: Tauke Khan Avenue 5
Main building, 256-office
Phone: 8 (7252) 30-11-29
E-mail: gauhar_omashova@mail.ru
Educational and scientific achievements:
She has graduated from the special department of the physical faculty of the Kazakh State university named after S.M. Kirov in 1986. She has qualification: physicist, a teacher of physics with right of the teaching on English. She has graduated postgraduate course of the Moscow State university named after M.V. Lomonosov in Moscow. In November 1992 she has successfully defended a thesis on the theme: "Interaction of metals titanium, niobium, zirconium and vanadium and their mutual diffusion" in TSNIICHERMET (Central Research Institute of Ferrous Metals) named after I.P. Bardin and in January 1993 she was awarded the degree of candidate of physical and mathematical sciences on specialty "Solid-state physics". From 1993 to present time she has worked on different positions at Kazakh chemical-technological institute, further at M.Auezov South-Kazakhstan State University. She has experience in the implementation of quality management systems in organizations, strategic management. She is an expert in quality assurance systems of the Central Asian Network for Quality Assurance and Accreditation CANQA. She combines work with teaching, teaches physics course in English for students studying for undergraduate education.