The Department of Strategic Development and Quality Management is structural division of university, directly submits to the rector and the first pro-rector and cooperates with all structural divisions of SKSU.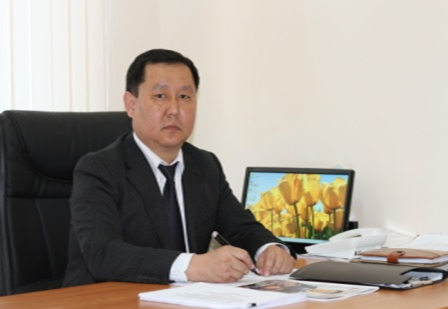 Kamaldinov Rakhimbek Absatovich– Director of DM and QM
Phone: 8-7252-30-12-37
e-mail:
Graduated the Kazakh chemical-technological institute on speciality "Economics and organization of the chemical industry". Has protected the candidate dissertation at the Moscow engineering-economic institute. Long time worked at the Kazakh chemical-technological institute on different posts, at university MIRAS – the dean of faculty, director of Economics and Business institute, pro-rector on a science and development. Has an experience on manufacture - the economic adviser of the General director of joint-stock company "Shymkentnefteorgsintez", a member of the Interdepartmental commission on privatization of oil and gas branch at the State Committee on state property Republic of Kazakhstan. Repeatedly was selected the Chairman of regional board of Kazakhstan economists Union. She is a chairman of the council on a professional training for financial and economical bodies at mayor of South Kazakhstan region. In common with experts took part in working out of development programs of region. Has over 250 publications on problems of regional economics, business, higher education. She was awarded the order «an honor Sign». She is an owner of the grant «the Best teacher of HEI» of 2008. Protected the doctor's dissertation in 2009. Organizational structure of the DM and QM includes following departments:
monitoring and analysis department;
service of quality;
department of Strategic development and analysis of study programs quality;
The purpose and primary goals of DM and QM. The purpose of M and QMC activity is the internal estimation of quality of education, including total quality management, monitoring of processes, various procedures of a self-assessment of all kinds of university activity. Primary goals of DM and QM are:
introduction of modern management methods, increase of efficiency of strategic planning, an estimation and analysis of a condition of university Total quality management processes;
realization of actions' system on monitoring of quality of educational, research, teaching and educational and auxiliary processes;
perfection of credit technology of training for increase of educational programs quality indicators at level of the international standards;
methodical, organizational and technological maintenance of an estimation of education quality;
definition of responsibility and powers of structural divisions on Total quality management processes.