Center for Strategic Planning and Quality Management
Functional tasks of the Center for Strategic Development and Quality Management:
control and coordination of work to improve the effectiveness of the QMS in the M. Auezov SKU;
updating the Quality Manual;
improvement of quality management system documents;
management of the process of developing Regulations and job descriptions of structural units;
collecting data on the functioning of the QMS and submitting them to the top management for analysis;
development and implementation of Action Plans to improve activities, corrective and preventive actions;
ensuring the planning and conduct of internal audits;
development of system-wide QMS documents at the university level, participation in the development of other university documents within the framework of inter-functional groups;
organization and analysis of intra-university control over the quality of education at faculties and departments;
development and improvement of the database system "QMS Documents", which serves as a management tool for electronic versions of QMS documents;
development of a strategic plan for the development of the university;
analysis of the implementation of the goals, objectives and target indicators of the strategic development plan of the university by all structural divisions of the university;
coordination of the work of departments on the preparation of documents for the licensing of specialties;
analysis of the quality of university educational programs;
analysis of educational programs of advanced universities of the Republic of Kazakhstan and other foreign countries and making proposals to the top management to improve the quality of educational programs of the university;
organization of intra-university quality control of education at faculties and departments.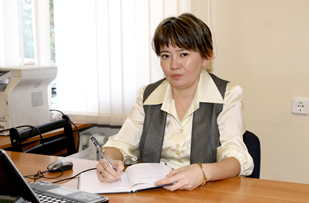 Head of the Center for Strategic Planning and Quality Management
Dzhynisbekova Saltanat
candidate of technical sciences
Address: Tauke Khan Avenue 5,
Main building, 256-office
Phone: 8 (7252) 30-11-29
E-mail: calta_amir@mail.ru
She has graduated in 1998 from M.Auezov SKSU. Her specialty is Environmental Health Protection and rational employment of nature resources. She has defended her candidate's thesis in M.Auezov SKSU in specialty 25.00.36 "Geocology", on theme "Development of technology of membrane purification of sewage waters from oil products". She has more than 10 publications on issues of sewage waters purification from oil products. For a long time she has been working in the division of monitoring and analysis of HLQ specialists, where together with specialists was involved in creating HEI IS (information system of HEI) and development of criteria of assessment of teachers activity quality as well as into the analysis of the results of sociological research on satisfaction of internal customers of the university educational services. She has also job experience as consultant on issues of development, introduction and efficiency increase of QMS functioning. She has certificates in QMS training, a certificate of Internal auditor.